201st Master Installed
In January 2014 we installed our 201st Master, the 167th Mason, in Hastings, East Sussex...
January 2014 saw our 201st Worshipful Master installed into the chair of our ancient Lodge in a sincere and moving ceremony at the Masonic Hall, St Leonards on Sea.
This is a significant moment for Derwent Lodge as it takes the Lodge in to its 3rd Century of freemasonry in Sussex.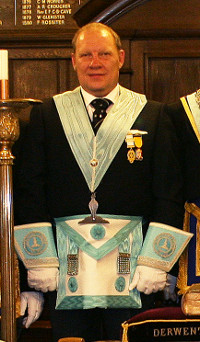 The ceremony was graced by the presence of the Sussex Province Assistant Provincial Grand Master, W.Bro Michael Harris, and attended by Brethren from other St Leonards Lodges as well as visitors from Durham and other parts of the United Kingdom.
During the ceremony the Lodge's new Bi-Centenary Warrant was passed into the new Master's safekeeping for the first time.